The world first heard of Scary Creative, Inc. back in 1990 under the name Scary Productions. In those early days, the company began its humble artistic roots deep within the motion picture and cosmetic industry. It was a talented, rag-tag team of dreamers from the graphic world that began Scary with the crazy idea that you can do something you love and call it work. At that time Rub On Transfers were the only way to mock up designs. It was not much more then prep work but with the encroaching presence of computer designs into the graphics world, Rub On Transfers became a niche market. Like a phoenix arising from the ashes, Rub On Transfers were ready to come back into the lime light in a big way. It was 1995 when Scary was approached by big names in the guitar manufacturing industry. Companies such as Gibson and Fender were in need of help and Scary was there to save the day. Guitar manufacturers were searching for headstock logos that were thinner, better quality, more precise and easier to apply and Rub On Transfers were the answer. It did not take long for word of mouth to spread. Once the top dogs were admitting to using Rub On Transfers, everyone in the industry was eager to see just what Scary Creative had to offer. The orders came pouring in, but the product spoke for itself. Soon companies found themselves asking "What else can Scary do for me?". Guitar Wraps and Wear Patterns were being created, patents for the Fret Masks were issued, and a trail of happy customers grew. Now the cat is out of the bag and Rub On Transfers, Guitar Wraps and Fret Masks are yours for the asking!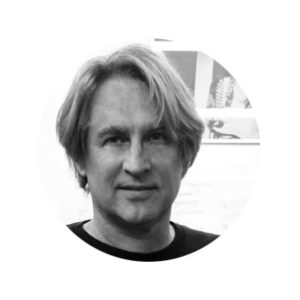 John Cross  |  President/CEO  |  john@scarycreative.com
Powerhouse singer, songwriter and artist extraordinaire. Whether he is busy designing intricate guitar wraps for the multifaceted Graphic Design/Music Production firm, Scary Creative, or behind the mike, singing live or recording original compositions, John's artistic talents are manifested in every aspect of his life.
John began his musical career at the tender age of three and has been singing, playing guitar, bass, keyboards and writing music ever since. He started his first band when he was seventeen, an 8-piece R&B group and in the years since, he has headed more than thirty bands of varying genres. He majored in Fine Arts and minored in Music and Economics at the University of Wisconsin. He moved to Los Angeles to pursue a recording career and along the way paid the bills working at many major graphic design firms ultimately starting his own business which became Scary Creative.
Since then, John built his niche on his attention to detail and the ability to reproduce it both as a musician and a businessman. He has been hand-crafting custom Rub On Transfers for over 20 years. Known in the analog days of graphic design as INTs, Cromatecs, Dry Transfers and Rub Downs, demand was huge in comp happy world of packaging, movie posters, theater lobby standees, and the cosmetic industry. Slowly, as those with lesser skills faded into technology, John captured a reputation as the last of the true craftsmen of a dying art.
Today, John has developed new frontiers such as Wear Patterns for relic guitars, his patented Fret Mask and full color image duplication and expert application to guitars that has become known as Image Wraps.
John's latest solo project, "Living Art" is available for download on this website.
Check it out and enjoy!